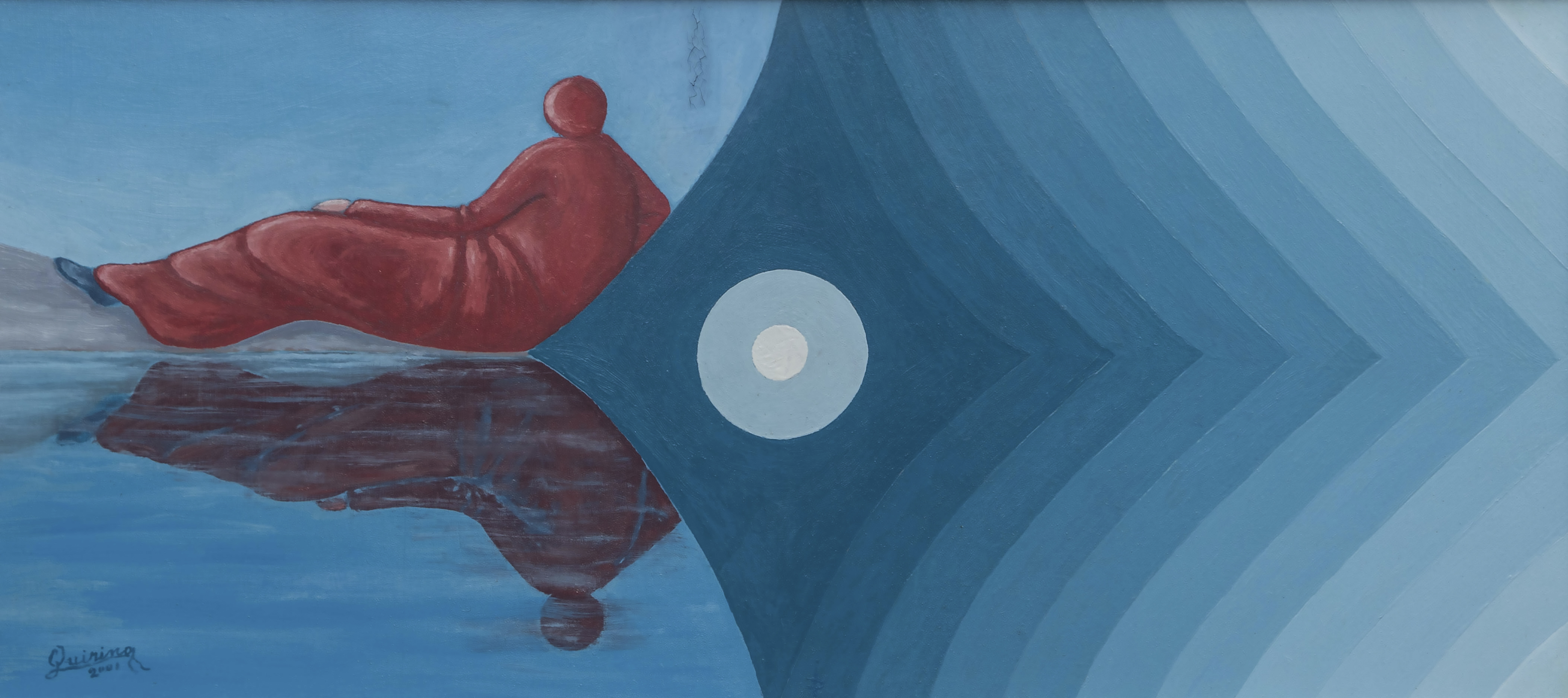 Meditazione cosmica, 2001 olio su tavola cm-30-x-65
.
.
«"La fisicità delle sculture di Arp ricorda quella ritualizzata della danza balinese, che affascinò Antonin Artaud, spirito libero del teatro europeo del Novecento. A suo modo, anche Arp fa teatro, unendo, come Artaud, gesto, movimento, luce e colore, e riscrivendo le regole per un nuovo confronto con la realtà circostante, alla disperata ricerca dell'equilibrio che la Grande Guerra aveva spazzato via; la sua ricerca del lato spirituale della realtà lo porta a privilegiare un metodo di creazione artistica casuale, guidato dall'ispirazione e dall'immaginazione, cosa che lo avvicina a un altro outsider del teatro, quell'Alfred Jarry che teorizzò la Patafisica, ovvero la "scienza delle soluzioni immaginarie". Avvertendone la stagnazione, ruppe con il Surrealismo dei primi anni, concentrandosi su una nuova indagine del reale: per meglio relazionarsi con la natura, l'arte non deve imitarla, ma rimanere se stessa, ripensando la fisicità delle forme, affinché le opere s'inseriscano nello spazio con un'armonia non forzata. Da qui, lo sviluppo della cosiddetta "arte concreta", espressione del clima sperimentale della scultura modernista che vede fra i suoi esponenti Barbara Hepworth, Henry Moore, ConstantinBrancusi, che pur in separata sede, gettarono con Arp le basi della scultura novecentesca. La fisicità caratterizza anche i dipinti di Arp, che possono essere visti alla stregua di bassorilievi. Le sue forme si librano nell'atmosfera come atomi in sospensione, e le linee sinuose sono metafora di una libertà spirituale che la società del Novecento si sentiva sfuggire".
.
.
.
.
Ma chi era Jean Arp: "Francese di nascita ma attivo in Olanda, Jean Arp (Strasburgo, 1886 – Basilea, 1966) nel corso della sua carriera – che lo vide prima a Zurigo tra i fondatori del Dadaismo, nonché esponente surrealista prima e astrattista poi – ebbe anche una lunga frequentazione con il movimento De Stijl, per tramite di Theo van Doesburg, con il quale nel 1926 aveva collaborato alla progettazione del centro ricreativo Aubette a Strasburgo, eseguita secondo gli innovativi canoni estetici olandesi e ricostruito in un'apposita sezione della mostra. Pittore, scultore, architetto e poeta, Arp fu un libero pensatore che fissò nella materia il risultato delle sue elucubrazioni, e la sua opera ha più del filosofico che dell'artistico in senso stretto. Gli anni che vanno dal 1920 al 1935 furono i più intensi della sua carriera, e per questo sono oggetto di una particolare attenzione all'interno della mostra Arp: the poetry of forms, che è occasione per osservare quattro opere sinora mai esposte: Concrete relief G. Child and head, Torse-vase, la serie delle incisioni su legno Sun recirclede Memory from the region of Heracles, provenienti da collezioni private"».
(Niccolò Lucarelli, "Jean Arp a Otterlo")
.
.
.
.
[*]  testi in  Jean Arp a Otterlo. Fra scultura e poesia  nel portale Atribune